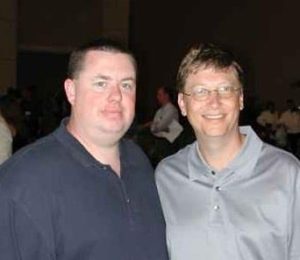 Hi there!   I'm Steve.
I'm an Azure IoT Global Black Belt for Microsoft.   That sounds impressive, huh?  Yeah, it's just a job title so don't get too excited.   What I really am is a pre-sales engineer (aka technical weenie) covering customers in the Southeastern United States, so you have to read my blog in a southern accent to really understand it.  I help customers understand, evaluate, test, develop, and deploy Internet of Things solutions on Microsoft Azure.
I've been at Microsoft for 20 years, working with a pretty wide variety of MS products and technologies.  My degree and background is electrical engineering, so IoT was a natural fit.
In case you are wondering, I'm in the one on the left in the pic above…   The other guy is some random multi-billionaire I ran into!  🙂
I probably won't be a prolific blogger, but I do have tips and tricks I want to share from time to time.  I hope at least some of it is useful for you!
You can find me a few other places around the interwebs, including: